| Water Well / Geothermal
| Civil Construction
| Mining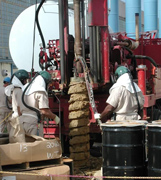 | Geotechnical / Environmental
| Sonic Drilling
| Horizontal Direction Drilling
American-Manufactured and Built Tough
Drill Pipe Inc. is proud of its over 100 years of industry experience manufacturing Quality Drill Tools. We have leveraged our experience and expertise and combined it with the latest manufacturing technology to produce the industry's highest quality In-Hole Tools.
DPI has an experienced and dedicated team which designs, and manufactures Drill Pipe and In-Hole Tools to meet our customer's specific needs. We have built our company's capabilities to encompass all of the critical manufacturing processes required to construct, and deliver premium In-Hole Drilling Tools.
The ability to complete all phases of manufacturing under one roof is significant as it allots DPI 100 percent control of the tooling's quality and, ultimately, this translates to a highly reliable product, with unparalleled product performance in the field.
We rely on our expert machinists, who are experienced professionals, and utilize the latest CNC Machining Center Technology - Employ Advanced Inertia Welding Technology - Insist on use of Premium Alloy Steel from US Steel Mills - Apply leading edge Heat Treatment science, and technology - and meticulously apply our strict process step Quality Control System.
We participate in the following industries and gain synergy from providing real solutions to a diverse array of challenges:
Water Well • Geothermal • Civil Construction • Mining
Geotechnical Environmental • Horizontal Directional Drilling
The focus on product quality and performance is our mantra and is an ongoing effort, which we pursue like no other organization.
DPI is a medium-sized business, and this enables us to be very sensitive to our customer's needs, and offer flexibility others cannot. We plan our business to reduce manufacturing time.
Looking for one piece of drill rod or several hundred, you can count on DPI for both our product quality, and our short lead times.
We welcome your visit!