At DPI, we offer a wide range of Blast Hole Drill Pipe.
We manufacture smaller-diameter tooling for the aggregate industry, to the largest In-Hole tools used in hard rock mines. DPI's considerable manufacturing capabilities ensure we can offer you the right steel for your operation.
We manufacture our Pipe in both welded and integral designs. We have considerable expertise in Inertia and Sub Arc Welding and are very knowledgeable in utilizing heat treatment technology with application-specific challenges.
5′ 1/2″ (.750 wall) x 3 1/2 BECO Pin X Box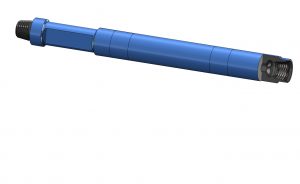 DPI has experience manufacturing all OEM designs and can provide custom features as needed. The pipe is manufactured 100 percent in our facility so we have complete control of product quality. Tool Joints are manufactured from 4140 Q&T Alloy Steel and are threaded with breakout profiles crafted using the latest CNC Machining Centers. We follow API manufacturing standards and utilize a strict process quality control system.
Blasthole Drill Pipe Chart
Pipe OD
.375 wall
.500 wall
.674 wall
.750 wall
.906 wall
1.00 wall
1.5 wall
2.00 wall
Lengths
3" OD
13#
4M
4.5M
6M
20'
25'
30'
3 1/2" OD
14#
16#
4M
4.5M
6M
20'
25'
30'
4" OD
16#
20#
4M
4.5M
6M
20'
25'
30'
4 1/2" OD
18#
23#
30#
34#
21' 6"
25'
30'
35'
5" OD
20#
25#
34#
21' 6"
25'
30'
35'
5 1/2" OD
27#
29#
38#
21' 6"
25'
30'
35'
6" OD
36#
44#
21' 6"
25'
30'
35'
6 1/4" OD
35#
45#
21' 6"
25'
30'
35'
6 1/2" OD
34#
49#
30'
35'
7" OD
51#
65#
30'
35'
7 5/8" OD
58#
74#
30'
35'
8 5/8" OD
76#
82#
25'
30'
35'
9 1/4" OD
90#
25'
30'
35'
10 3/4" OD
105#
25'
30'
35'
12 3/4" OD
127#
25'
30'
35'
13 3/8" OD
149#
186#
226#
25'
30'
35'
Blast Hole Thread Profile Chart
Thread
Mission #19
2Z
2 1/2 Z
Mission #21
Mission #24
2 3/8 API Regular
2 7/8 API Regular
3 BECO
3 1/2 Reg
3 1/2 BECO
4 1/2 API Regular
4 BECO
4 1/2 BECO
5 1/4 BECO
6 BECO
7 BECO
8 BECO
10 BECO
Information for order placement
Drill Make and Model
Hole Diameter
Drill Pipe OD
Wall Thickness
Connection & Thread Profile
Break out configuration
Special Requests