1960
WIRE LINE DRILL ROD DESIGN
In the early 1960s, Ake Ronnkvist innovated and progressed both the design and process to manufacture quality down-hole tools. It all started with the Wire Line Drill Rod Design.
1970
FIRST INERTIA WELDED DRILL PIPE
1980
INERTIA WELDED SUCKER ROD
In the 1980s, we designed the Inertia Welded Sucker Rod for the Oil and Gas Industry.
1990
INNOVATED HORIZONTAL DIRECTIONAL DRILL PIPE DESIGN
In the 1990s, we innovated many of the Horizontal Directional Drilling Drill Pipe designs that are still in use today.
2000
FIRST HELICAL PATENT
In the early 2000s, we began the design and then patented the strongest pound-for-pound helical pier in the world.
2010
CHILEAN MINE RESCUE
In 2010, we engineered, developed and manufactured the Drill String that was used in the Chilean Mine Rescue. The pipe that we designed was carefully chosen to advance the boring utilized to form the rescue shaft for the miners that were trapped in the San Jose Mine. "After being trapped under ground for months, a dramatic rescue mission unfolded live on TV sets across the globe: 33 miners were pulled from the Earth alive and reunited with their families, 69 days after they were trapped." – USA Today
Photo by usatoday.com 
DRILL WITH CONFIDENCE, DRILL WITH DPI PRODUCTS
Drill Pipe Inc. (DPI) is based just west of Minneapolis, Minnesota in Winsted, Minnesota and is an international manufacturer of quality drill tools. With over 60 years of experience, Drill Pipe Inc. has an experienced and dedicated team that has leveraged their experience and expertise, and combined it with the latest manufacturing technology to produce the industry's highest quality in-hole tools.
We are devoted to working with our customers to understand their need for our product and create an approach that accomplishes the goals of their business. With our wide range of industry knowledge, we will dive deep and use a team approach to accomplish all of our customer's needs. We believe in the value of the product that we design and manufacture.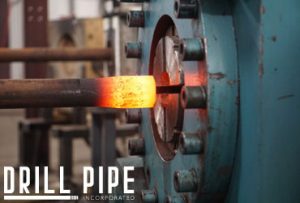 Generations of Excellence:
The beginnings of the down-hole industry started in the 1960s, when Ake Ronnkvist began manufacturing drill rods. After many years owning and operating the manufacturing plant, Tom Ronnkvist took over as the second generation manufacturer of quality in-hole tools.
Our Mission:
Drill Pipe Inc. is a full-service manufacturing company that not only manufactures the highest quality in-hole tools, but strives to be a partner in our customers operation. We deliver on our promise and provide the superior knowledge across industries that maximize efficiency for our customers. Drill Pipe Inc. ensures the success of our customers, along with the product that is being sold.
Our Product:
At DPI, we use the highest quality material, cutting edge heat treatment technology, multiple welding processes, CNC machine centers, thread gauges, and computer assisted design tools. Each step of our manufacturing process is closely monitored by our quality control personnel, who have a distinctive role in our business. A history of success proves it.